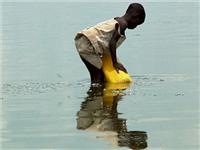 * UNICEF Works to Wipe Out Cholera in Uganda
* 시간: 02 min 33 secs
* 촬영도시: Hamukungu
* 촬영국가: Uganda
* 촬영일자: 11 May 2010

A young girl collects water from Lake George, Uganda. It's a common site here, and one of the reasons this district has shown an endemic pattern of cholera over the past several years.

Cholera is a bacterial infection of the intestines, and is spread by water contaminated with human excrement. In areas lacking clean drinking water and proper waste disposal, the combination can be deadly. Last year, cholera infected more than 500 people in this area, and killed about a dozen people.

This woman nearly lost a daughter to cholera.

"My daughter was getting water from the lake and didn't boil it. That's how she got sick. Now we're buying bottled water from the store, and only using water from the bore hole and lake for cleaning.

When the family sought treatment for her daughter, a health worker advised them about buying the bottled water, or at the very least, boiling it.

Despite massive efforts to improve the situation, the cases, and the deaths, keep mounting, especially during the rainy season, when waste is often carried into rivers and lakes, where people continue to collect drinking water.

SOUNDBITE (English), Paul Semakula, UNICEF:
"I think the one issue that we're not addressing is the behavior change. We're not looking at the attitude of these people. We're not looking at what they think about cholera. To them, cholera seems to be something that happens every year. Their perspective is 'cholera is not dangerous.' After all, you get treated in two or three days and you feel fine. So they don't think it's something they need to fight within their communities or households."

SOUNDBITE (English), Paul Semakula, UNICEF:
"What UNICEF is doing currently is we support the local governments with basic logistics that can help to improve, one: the water, sanitation and hygiene services, so we are providing them with items like water-storage facilities, water-purification material. We are providing them with support to protect the water sources they have currently."

UNICEF is helping spread information throughout the community about proper hygiene practices. UNICEF is also exploring legislative action that would protect people from eating contaminated food, as well as require each household to have a latrine.

Cholera is a household disease, and if it's to be defeated, it must be defeated at the household level.