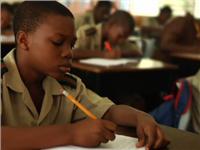 * UNICEF supports alternatives to corporeal punishment in schools in Barbados
* 시간: 02 min 51 secs
* 촬영도시: Bridgetown
* 촬영국가: Barbados
* 촬영일자: 25 Oct 2009

Look past the postcard perfect beaches of Barbados and you'll find a thorny issue dividing much of the small island nation.

A debate is raging about whether to continue using corporal punishment when disciplining its children.

The practice, also known as whipping or flogging, goes back generations, and is common in both homes and schools, despite evidence that hitting children in this fashion is harmful to their development.

Tom Olsen is UNICEF's representative for Barbados and the eastern Caribbean.
He says, "All studies -- all international and regional studies, studies which we have done with children themselves, speaking out about corporal punishment and how discipline is enforced in schools -- shows it doesn't work."

He says violence is on the rise, and that teachers, principals and government officials are quick to point out that teachers are actually losing control of children at schools.

The country's top education officer at the ministry of education knows all too well the deep opposition to ending the practice.

SOUNDBITE (English), Dr. Idamay Denny, Barbados for Ministry of Education:
"People in Barbadian society feel very strongly that we have become what we have become as a result of corporal punishment and they feel that we should not tamper with removing corporal punishment."

Winter Pilgrim teaches 10-and-11-year olds. He used to be a firm believer in corporal punishment until it drove a wedge between him and his daughter.

SOUNDBITE (English), Winter Pilgrim, Teacher:
"Everything that was done in the past is not necessarily right. And I think part of the change or transformation actually came with a relationship between my daughter and I, where at one stage, I was called to her school and the teacher told me that she was afraid of me, basically for the same reason: because I was too strict or because of the administering of the punishment to her."

A UNICEF-sponsored workshop helped him implement an alternative strategy, that placed a premium on owning one's actions. And instead of just punishing bad behavior, it clearly defines expectations and what constitutes GOOD behavior.

SOUNDBITE (English), Winter Pilgrim, Teacher:
"It's a very big sway from how I used to teach. However, I've seen the changes in the children's behavior and attitude towards me. When I first came here, I can honestly say that the children were -- I will use the word 'frightened.'"

His new approach is paying big dividends with his