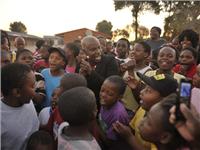 * UNICEF Goodwill Ambassador Angelique Kidjo highlights HIV/AIDS in South Africa
* 시간: 02 min 35 secs
* 촬영도시: Soweto
* 촬영국가: South Africa
* 촬영일자: 07 Jun 2010

With the football fever gripping the globe, UNICEF Goodwill Ambassador Angelique Kidjo is using this moment to highlight the immense needs of South Africa's children made vulnerable by poverty, violence and HIV.

Ms. Kidjo is invited by FIFA to perform at the opening concert of the World Cup. But before that she made time to visit a community hit hard by HIV and AID in Soweto.

She met with Child Care Workers who work with the communities to provide care and support to children at risk.

This is a household headed by a grandmother. She cares for her three grandchildren, and one of them is living with HIV.

With the help of the Child Care Workers, the grandmother was able to obtain birth certificates for the children, and apply for social security grants.

SOUNDBITE (English), Hloniphile Dlamini, Isibindi Mentor:
"In their homes they create a routine for the family and children, and also they are there to ensure the children have food before they go to school to provide them with homework as soon as they come back from school. And we also help the families with birth certificates in order for them to access child support grants."

At this safe park, children can access to services such as health care and psycosocial support. Under the Child Care Workers' supervision, they play, do homework, and be children again.

Working with partners including the National Association of Child and Youth Care Workers, UNICEF is going to open child-friendly spaces like during the World Cup.

Four FIFA Fan Fests will feature such child-friendly spaces, where children can play safely, watch the football matches, and be assisted by trained volunteers.

SOUNDBITE (English), Angelique Kidjo, UNICEF Goodwill Ambassador:
"I've seen women, men involved in their community, living in the community taking care of the problem of orphans, the problem of kids with HIV and AIDS, the problem of poverty simply that just crippled the family. And that for me since I've been coming here is huge progress. Huge."