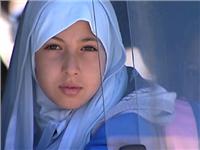 * UNICEF and the European Union are partnering to rehabilitate schools in the Syrian Arab Republic
* 시간: 02 min 30 secs
* 촬영도시: Damascus
* 촬영국가: Syria
* 촬영일자: 30 May 2010

This is the reaction of students in the poorer Syrian districts when presented with planned Ministry of Education, UNICEF and EU improvements for their schools.

Schools in those struggling areas of Syria with large numbers of Iraqi refugees -- a refugee community that doesn't seem to be shrinking on account of the continuing situation in Iraq -- uncertainty that has heightened economic burdens and social pressures here in Syria.

Problems that are largely mirrored by the local school.

Seeking to understand how best to buoy student education rights in light of these pressures, UNICEF are asking those closest to the issues that matter what their schools really require.

A process of specially tailored education assessments designed to harness input from teachers, pupils and parents.

And when it comes to what the local school needs -- everyone's got thoughts.

SOUNDBITE (Arabic): Nareen Al Qaaq (Student)
"I've been in the school since grade one until now, but I swear that I didn't use the bathroom but twice. In other words, the bathrooms are so disgusting."

The universal message from schools across Syria is that the education system is in need of a little extra help.

And this is what UNICEF and the European Union have teamed up to offer - supplying lists of earmarked commodities and infrastructural care.

Assessments designed to ensure schools get the most essential rehabilitation and supplies. Something teachers, in particular, are aware of.

SOUNDBITE: (Arabic) Samira Abu Salmaan, Teacher:
"I'd like to point out that the step over here is not only dangerous for me, it's only dangerous for the students and they mostly fall when they go out. I also remember once that I broke my heel and I fell on my back because of this."

The participation of staff, teachers, parents and, of course, students has ensured that UNICEF and the European Union remains relevant in their support for an education system under pressure.

Resulting in a support programme that is learning as it progresses. Discovering how to best work with and for the Syrian education system and its students -- be they from Iraq, Syria or elsewhere.
Community members making all important education decisions over those equally important cups of Syrian tea.