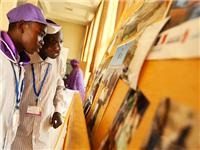 * UNICEF supports six Central African countries to end the use of child soldiers
* 시간: 04 min 07 secs
* 촬영도시: N'Djamena
* 촬영국가: Chad
* 촬영일자: 09 Jun 2010

Chadian children sing along with local artist Sultan. His hit song, "Child Soldier," which criticizes the use children in war, rocks N'Djamena's ministry of foreign affairs at the opening ceremony of a regional conference on that very theme—ending the recruitment and use of children by armed forces and armed groups.

The conference opened with speeches from the prime minister of Chad, its minister of social action, national solidarity and family, and UN representatives. Chad itself is leading the way in demobilizing child soldiers and, following a cooperation agreement between UNICEF and the government in 2007, has withdrawn over 800 children from rebel groups. Those children have entered rehabilitation centers and now receive vocational training in a bid to stop them rejoining the groups for economic reasons.

SOUNDBITE: Ngarmbatina Odjimbeye Soukate, Minister of Social Action, Chad:
"A child's place is with their family, a child's place is at school, and this is the only way we can develop the world, we can develop Africa that is today shaken by 1,001 conflicts."

Delegates were also addressed by former child soldiers, Ishmael Beah, who fought in Sierra Leone's civil war and is now UNICEF's advocate for children affected by war, Zaccheline Dugbe, who fought in Liberia's civil war and is now a police officer; and Emmanuel Jal, who fought in Sudan's long running civil war and is now an international rap artist.

They described how they were recruited, the horrors they suffered through and why the recruitment of child soldiers must end.

SOUNDBITE: Emmanuel Jal, former child soldier and rapper
"We only just came here to testify, but a lot of work has been done by the people who did the research to pull this together, so we only come on an emotional level to be able to touch people's hearts because what happens is when you touch people's hearts, the message is taken for a long time and they'll be able to act to do it, if you only touch their minds, its temporary."

Not far from the conference, in a UNICEF supported rehabilitation center for demobilized child soldiers, young boys deal with their experiences of war through art; images of guns and fighting dominate, it is all they know.

There are around 250 000 boys and girls under the age of 18 currently involved in more than 30 conflicts worldwide.

Some children are abducted or forcibly recruited; others are driven to join by poverty, abuse, discrimination or revenge.

Thousands of children have been recruited by