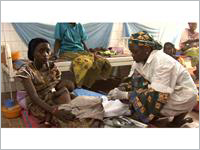 * UNICEF Niger Malnutrition
* 시간: 01 min 59 secs
* 촬영도시: Guidimouni and Marriah
* 촬영국가: Niger
* 촬영일자: 7 ay 2010

Baraka has brought her 13 month old son, Abdul to the health centre in Guidimouni.

At 5.5 kg, he is acutely malnourished.

He is also suffering from malaria.
Abdul is one of the many children expected to be needing treatment for malnutrition in the upcoming months. There is still four months to go until the next harvest and already there is nothing left to eat. Poor rainfall, crop failure and exhausted food reserves across Niger portend to a food crisis similar to the one of 2005 that affected thousands of children.

In the first stage of care, Abdul is assessed by a health worker and Baraka is given advice on preventative health methods (breastfeeding).

Then Abdul is weighed and measured to determine the appropriate treatment. He is so weak he even refuses to eat the plumpy nut supplement that is offered to him.

After further examination, the nurse explains to Baraka that the malaria is weakening Abdul and has caused his malnutrition. He needs to be taken to an intensive therapeutic feeding centre in Mirriah Hospital.

He is given vitamin A and folic acid. Then a nurse accompanies Baraka and Abdul to the centre.

Built with the support of UNICEF, this new section within the Mirriah Hospital is devoted exclusively to the care of severely malnourished children.

Abdul undergoes further testing. A catheter is placed in Abdul's arm for upcoming treatment and he is given antibiotics.

Against the backdrop of this growing crisis in Niger, providing nutrition supplies and services on time is critical.

UNICEF and partners are working to ensure that adequate care reaches children like as Abdul in time- so that they can survive this crisis and thrive again.