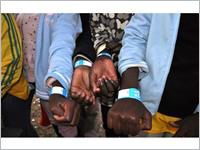 * UNICEF child-friendly spaces at South Africa World Cup Fan fest sites
* 시간: 02 min 04 secs
* 촬영도시: N/A
* 촬영국가: South Africa
* 촬영일자: 27 Apr 2010

As the most watched sports event, the FIFA World Cup is expected to attract more than one billion television viewers around the world.

Across the host country South Africa, fan parks, also known as FIFA Fan Fests, are set up for an estimated half a million visitors, plus hundreds of thousands of South African citizens.

Aside from live TV and entertainment, a number of the Fan Fests also feature child-friendly spaces.

Here, children can play and get help if they ever get separated from their families, or being exposed to violence and abuse.

SOUNDBITE (English) Rona Steffens, Social Worker:
"We have two banding stations at the gate. Each child will have a band with a telephone number of their parent. So if that child comes in to the site we'll phone the number on the band and that parent can come and collect the child. We also have some childcare monitors walking around the park telling people what our site if for."

Before the opening match was kicked off, UNICEF launched the Red Card campaign, and supported the leaders of tourism and hospitality industry in signing of the International Code against the Commercial Sexual Exploitation of Children in Travel and Tourism.

SOUNDBITE (English), Aida Girma, UNICEF Representative in South Africa:
"This is a very historic moment for South Africa and indeed the entire continent and we are mindful that an event of this magnitude also increase the risk for child abuse and exploitation. So for this reason that UNICEF together with the government and society has out together with comprehensive child protection measures."

As the first African nation ever to host the World Cup, South Africa is poised to demonstrate to the world that it is not only a gracious host, but a nation stands firmly against any kinds of violations of child rights.