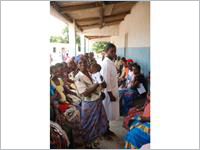 * UNICEF supports free health services for women and children in Angola
* 시간: 03 min 13 secs
* 촬영도시: Lubango, Matala Huila Province
* 촬영국가: Angola
* 촬영일자: 22 Mar 2010

Angola's long civil war is finally over. For eight years now this oil rich country in Southern Africa has enjoyed peace. And with peace, the country is focused on rebuilding its infrastructure and basic social services. The task in the health sector alone is enormous. Angola has some of the highest child and maternal mortality rates in the world.

SOUNDBITE (English) Koenraad Vanormelingen UNICEF Representative in Angola:
"Health care still has a long way to go in Angola because barely 54 percent of women are delivering in health facilities, immunization levels are improving but they are still not yet at 80 percent. But there is also progress. In the last 7 years what we have seen is malnutrition rates drop from dramatically from 50 to 30 percent and mortality rates have improved."

It is a busy morning at the Lubango heath centre in the southern province of Huila. Women, many pregnant or with young children, patiently wait their turn for a free package of basic health services.

The country's progress can in part be attributed to the roll out in the last three years of a package of essential services that targets pregnant and lactating women and children under five. The focus is using simple, tired and tested interventions that work. Such as antenatal care, mosquito nets to avoid malaria, vaccinating for new born babies and better management of the child hood illness like malnutrition, diarrhea and acute respiratory infection.

With support from UNICEF, the package is now reaching 16 districts in five provinces of the country or about 23 percent of the population. Expanding services though, is not without its complications.

During the decades of war, the vast majority of Angolans missed out on an education and one third of the population is still illiterate. This has created an acute shortage of health workers. To make up for the shortfall, there are currently 650 Cuban doctors working in the country and another 150 expected.

The government is also investing in education, building schools, nursing colleges and 5 new universities with medical schools. The hope is that within a few years, the country with have its own pool of qualified medical staff.

For mothers like Rose Ngeve, who recently gave birth to twins and has four other children at home, access to free care has been critical to keeping her and her children healthy. She is one of the 60 percent of the population who live on less than $2 a day and struggle to make ends meet.

SOUNDBITE (Portuguese) Rose Ngeve, Mother
"I