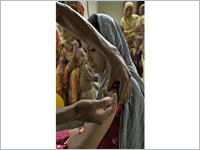 * UNICEF partners with Kiwanis International to reduce maternal and neo-natal tetanus
* 시간: 02 min 40 secs
* 촬영도시: Basay and Dumaguete City
* 촬영국가: Philippines
* 촬영일자: 12 Jun 2010

Just days old, this newborn baby is fighting for his life. He has neonatal tetanus, and the pain he feels is agonizing. So is the pain of his mother.

SOUNDBITE (English): Shalo Demiden, Mother of baby with neonatal tetanus: "I can see how he hurts.....I am praying that he will survive."

Her prayers may be answered because the baby is now receiving treatment.

But for too many mothers and their newborns, hospital care is out of reach. In such cases tetanus -- an infection that strikes mothers as well as newborns constrained to unsanitary delivery conditions-- is almost always fatal.

That's why Kiwanis International and UNICEF are launching The Eliminate Project.

A partnership that aims to stop the hundreds of thousands of unnecessary deaths caused by maternal and neonatal tetanus some 60,000 babies and 30,000 mothers every year.

129 million women in some of the most underserved parts of the world must be vaccinated over the next 5 years -- it's a $110 million dollar investment, and one that Kiwanis International has the reach to achieve.

SOUNDBITE (English): Dr. Jos Vandalaer UNICEF Chief of Immunization, "They can be part of public health history. We are very close to eliminating Maternal Neonatal tetanus. They can help UNICEF and its partners to get to the end goal."

The partnership has already begun. Here in the Philippines, Kiwanis representatives got a recent first-hand look at just how easily it can be prevented.

SOUNDBITE (English): René Miller, Kiwanis Youth Member: "I've seen the tangible results of what we're doing. I've seen the mothers walk out of the clinics after they've gotten the TT and they're really happy that they're doing it for their children."

UNICEF and Kiwanis have a history of delivering results for children around the world. Today, they announce a new history-making commitment- to virtually eliminate maternal and neonatal tetanus - in the Philippines and in the 39 other countries worldwide where MNT is a real risk.