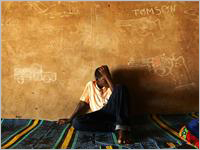 * UNICEF Advocate for Children Affected by War, Ismael Beah visits former child soldiers in Chad
* 시간: 03 min 36 secs
* 촬영도시: N'Djamena
* 촬영국가: Chad
* 촬영일자: 25 Jun 2010

In the dry dusty morning heat, barefoot kids in torn t-shirts run after an old deflated soccer ball. They give the soldiers walking across their playground, a wide berth. This is N'Djamena, the capital of Chad, soldiers here are everywhere and in charge. For many of the kids, soldiers live an ideal life; they have smart uniforms, dark glasses and usually a scooter or at least a bicycle. Nobody tells them what to do.

Many kids here want to be soldiers and until 2007, many kids here could become soldiers, joining any one of a myriad of armed groups. But following a cooperation agreement between UNICEF and the government in 2007, Chad has withdrawn over 800 children from groups involved in armed conflict. Those children have entered rehabilitation centers and receive vocational training in a bid to stop them rejoining for economic reasons.

At this UNICEF supported transit and orientation center for demobilized child soldiers in downtown N'Djamena, young boys deal with their experiences of war through art; images of guns and fighting dominate; it is all they know.

SOUNDBITE (Arabic) Robert, 17 year old Former child soldier
"I joined the national army when I was 12 and fought for them for 4 years and then I joined the rebels, I was a soldier, a soldier of war."

At the center, run by Care international, in addition to the art therapy, the boys are able to draw on 24 hour counseling to help them readjust to life outside the war zone. They often arrive with violent, aggressive tendencies and suffer sleep disorders, but with time social workers are able to gain their trust. They are given literacy and language classes, receive 3 meals a day and receive health care as many arrive with injuries sustained while fighting. The surrounding community is also involved in the center's activities and is an important part of the reintegration process.

UNICEF's advocate for children affected by war, Ishmael Beah, himself a former child soldier in Sierra Leone's civil war visited the center.

SOUNDBITE (English) Ishmael Beah: UNICEF advocate for children affected by war
"Whenever I visit such centers, like the place I went today, there's always a bit of sadness, but there's also a bit of. I feel like I can bring some assurance to some of the young kids there because I have been in a similar situation, I came to one of these centers very uncertain as to what the next stage of my life would be and where I am now so that they can understand that there are possibilities that lie ahead."

The use of ch