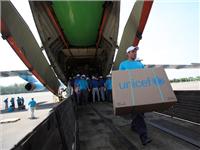 * UNICEF provides urgent relief supplies to refugees in Uzbekistan's Andijan
* 시간: 02 min 34 secs

A special charter flight arriving in a troubled part of the world – bringing badly needed relief supplies, in a fast changing humanitarian emergency.

On board, 32 tonnes of health and hygiene essentials, enough to supply the needs of thousands of families for three months.
Arriving in the Andijan region bordering Kyrgyzstan, these supplies are destined for thousands of minority Uzbeks.

They were displaced in recent violent clashes, and have now returned to Kyrgyzstan to rebuild their lives, amid widespread destruction, especially around the city of Osh.

Supporting the effort, the United States Government chartered the plane to bring in the supplies.

The fear for the international community is this region could again witness another refugee influx, if political developments in neighbouring Kyrgyzstan produce more violence.

Life is now apparently back to normal in Andijan, but the unprecedented arrival and then sudden departure of some 80 thousand refugees, has still left a sense dislocation.

And in the local hospitals, some refugees still remain.

In this maternity unit, Mashura Mamakhanova, is recovering after giving birth to her first child.

She was being treated in a clinic in Osh for complications in her pregnancy when the violence erupted.

When they started attacking, all the medical staff fled, she told us. And with her house destroyed, and no sign of her husband, she had no choice but to flee herself across the border.

Still largely bed-bound the highlight in Mashura's day, is the few moments she gets to spend with her baby daughter.

Cared for in an incubator, she was delivered by surgeons ten weeks prematurely. A tiny life, who still doesn't have a name.
Mashura wants her husband to name her.

But where he is, she admits, she doesn't know. And he doesn't know he's now father to a baby girl.